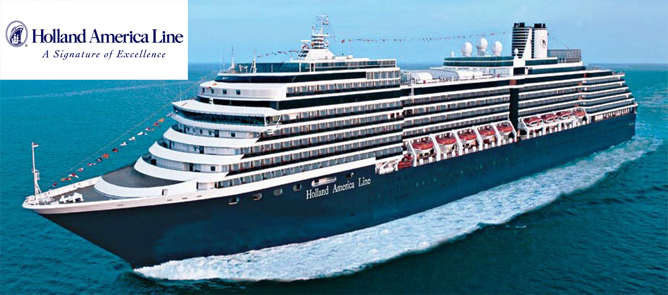 Holland America

Holland America Line runs a Signature of Excellence programme. This focuses on continuous improvement to ensure that you are treated to a superior cruise, with brilliance in the five key areas of dining, accommodation, activities, Plus, with an experienced service team offering the best excursions, you will learn how to live like the locals, and gain a great understanding of their history and cultures.

The Holland America Line prides itself on its reputation as the leader of premium cruising. Yet it doesn't take its impeccable status for granted. Running its $525-million Signature for Excellence campaign across its fleet of 14 elegant mid-sized ships, its aim is continuous improvement. For over 136 years, Holland America Line has been reaching for the highest standards, and always achieves beyond this aim.

Destinations are extensive and adventurous with Holland America Line. Visiting all seven continents, including celebrated and less well-known ports, you can enjoy exploring new and familiar cultures. Caribbean cruises, European cruises, and South America cruises are available alongside Mexico, the Panama Canal, Australia, New Zealand and Asia. Or why not try a more unique and exotic itinerary of Antarctica or the Amazon? With extended Grand Voyages of up to 114 days, you can really live the cruising lifestyle and visit an extensive number of destinations.

Spacious and comfortable, you really are cruising in five-star luxury with Holland America Line. The four Vista-class ships offer incredible ocean views from 85% of their staterooms. Rotterdam-class vessels are opulent, and feature the two ornate and elaborate flagships of Rotterdam and Amsterdam. Both these and the Statendam-class have already seen the Signature of Excellence upgrades. This includes deluxe mattresses and bedding, massaging showerheads and lighted makeup mirrors. Every aspect of your cruising comfort has been thought about and enhanced.

Whichever of the 14 cruise ships you embark on, you can't help but be impressed and amazed. There are a plethora of activities to excite and pamper you. The Culinary Arts Centre will teach you about the local foods and wines. Impressive guest speakers often come aboard to offer their expert advice and cooking tips – making your next dinner party one which your guests will never forget. Try the Greenhouse Spa and Salon where experts will give you tailor-made treatments to rejuvenate you and make you look and feel like a goddess. 

In addition to this, there are numerous evening entertainment options, from discos to cinema to Vegas-style shows in the main theatre. Sailing with nearly one crew member for every two guests, Holland America Line gives an award-winning service. Five-star dining is offered throughout all 14 ships. Award-winning chefs offer gourmet cuisines, fine wines and the freshest of local ingredients. One extra special touch is that waiters will roam the decks offering glasses of lemonade, or mugs of delicious soups on the colder itineraries.

Opting to remain a traditional cruise line, you will be treated to charming customs such as afternoon tea, set-seating dining announced by a quaint "chime ringing", ballroom dancing and on-ship tennis courts. Yet modernity has also been injected into the cruise line in the form of the Explorations Cafes, which has wireless internet hotspots. Here, you can also borrow an iPod to take yourself on a self-guided audio tour.

Traditional cruises, and that are interested in varied destinations love a Holland America Cruise. The Line is perfect for the discerning traveller looking for premium facilities, comfortable surroundings and excellent accommodations.