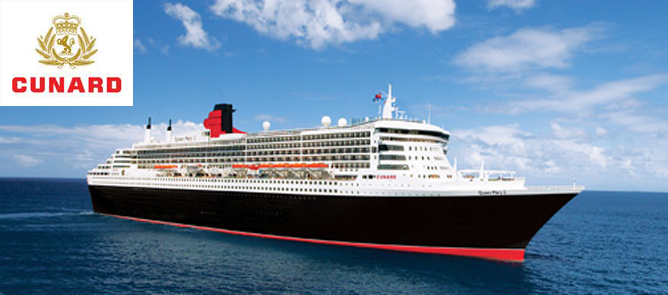 Cunard

Cunard Cruises set the standard in luxury cruise travel. Lavish comfort, magnificent surroundings, top-class entertainment and fine food are the hallmarks of a Cunard Cruise, whose three ships are spectacular examples of modern ocean travel.

Cunard Line is the luxury brand of cruises, offering a decadent leisure experience during which the crew consistently strive to meet your every need above and beyond the call of duty. Grounded in British traditions, Cunard Liners have lost nothing of their wonderful heritage, despite the introduction of the modern technology.
Amazing live entertainment, delicious food and fantastic facilities, and you have a cruise combination impressive enough to more than satisfy even the most demanding holidaymaker.

Cunard's reputation for excellence is renowned across the cruise industry and around the world. Three elequant ships make up Cunard Line's proud fleet, with the Queen Mary 2, Queen Victoria and the most recent, the luxurious Queen Elizabeth.

Firmly grounded in the tradition of the deluxe cruise liners of the past, Cunard ships lack nothing in terms of modern conveniences and some of the most up-to-date technology around can be found aboard Cunard vessels, particularly in the comfort of the staterooms, which themselves marry traditional, elegant surroundings with touches of modern day convenience.

Cunard Line's reputation is prime. The crew work tirelessly and the company prides itself on its famous White Star Service, which ensures that meal times are made as comfortable for guests as possible. Far from your standard waiter service, Cunard cruises offer a truly remarkable level of service that never fails to impress, complemented by a varied range of dining options from a casual meal in the pub to fine dining in Cunard's swish restaurants. The entertainment that follows is also top class, with something for everyone to enjoy as the sun goes down on another evening's cruising aboard one of Cunard's beautiful ships.

Cunard's luxury cruise experience is available to destinations including the Caribbean and the Americas, or for the ultimate cruise holiday experience, try Cunard's celebrated round-the-world cruise.

If luxury cruises are your idea of heaven, a Cunard cruise is definitely for you and your group. The company strive for excellence and achieve it every time, whether it's the mouth-watering meals, plush staterooms or the amazing entertainment on offer. Nothing is too much trouble for Cunard's dedicated crew. Ideal for honeymoons or anniversaries, it doesn't get any more romantic than spending time with a loved one on the enchanting seas, surrounded by all of life's luxuries.

For more than 160 years Cunard has set the standard in luxury cruises around the world. The current fleet is the legacy of an era in which cruises were for the wealthy members of society and Cunard ships have long been the playground of the rich and privileged.