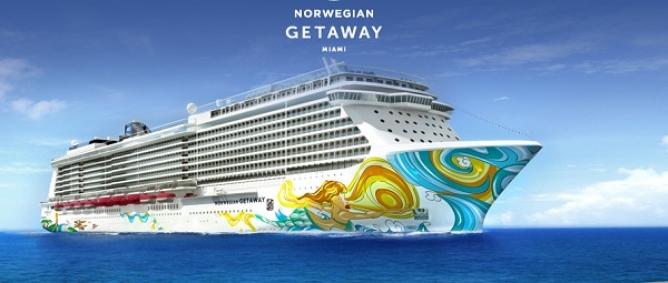 NCL GETAWAY from £pp
Destination:
Europe
Holiday Type:
Cruise Only
Departure Date:
15 January 2014
Operator:
NCL
Duration:
3 Nights
Accommodation:
NCL Breakaway

ENQUIRE NOW - CALL US ON: 01225 769 855
About Your Holiday

The Itinerary
Day 1
Travel to Amsterdam region
Day 2
Transfer to NCL Breakaway (embark ship)
Day 3
Southampton (disembark ship)
Itinerary may change without notice.

Norwegian Cruise Line is taking "Freestyle Cruising" to a entirely new level with the Norwegian Getaway. This 144,000 ton, 4,000-passenger cruise ship is scheduled to launch in April 2013 as the first of Norwegian's two "Project Breakaway" cruise ships. The Norwegian Getaway will make Miami its home after departing Southampton.

Be one of the first to experience the newest ship in the NCL fleet with a mini cruise back from Rotterdam, from £149pp you can experience this cruise only or we can put together a package for you with either flights or coach to Rotterdam with an overnight from £299pp.

Which ever way you choose you do not want to miss out on cruising aboard the NEWEST NCL ship....

Features

- 2 night aboard the NEW NCL Breakaway
- pre night in Rotterdam with flights or coach transfers
- Sail aboard the NEWEST NCL SHIP
- Exciting Restaurants
- Superb Entertainment


NCL

NCL Freestyle Cruising® and to a cruise holiday that's all about you. Enjoy four star luxury, do-as-you-please informality, fun, freedom and flexibility aboard our stunning fleet of contemporary ships. Choose your perfect accommodation from ultra-deluxe Suites and Villas to comfortable, affordable Staterooms. Dine where, when and with whom you choose with as many as 20 dining options on a single cruise ship. NCL Freestyle Cruising brings you the cruises of your dreams in exciting destinations from the Caribbean to Alaska, New England to South America, Hawai`i to Europe and more.
Dates / Prices subject to availability (pp = per person)
What to know more?